ComPlex Plastics

Serving the World
PRODUCTS LIST & TECHNICAL DATA
InteFoam®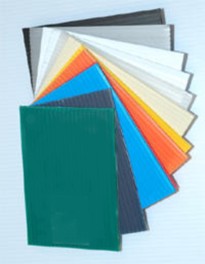 FREE SHEETS & FREE SHIPPING
SPECIAL PROMOTION OFFER

InteFoam®
A digital grade 3mm White FREE SHEETS for you to print "colorful" patterns or scenes along with your logo, address, phone, email, on these 24"x24" sheets. These panels will be "free" advertising for you as the panels will be taken to trade shows where they will be prominently posted . we'll supply you 4 sheets 2'x2' and we will pay for shipping to and from.
CLICK HERE TO REQUEST YOUR FREE SHEETS
InteFoam® is an expanded PVC foam board with a matte finish. It is lightweight, durable, chemical resistance, fire retardant capabilities and available in a variety of colors in 3mm and 6mm, gauges ranging from 1mm to 25mm (1/32" to 63/64"). InteFoam® is an excellent substrate for point-of-purchase displays and signs, and is the substrate of choice for screen-printing and digital printing. Features a consistently smooth and abrasion resistant surface for easy paint and excellent ink adhesion produces sharp, vivid colors – a printed image of superior quality! It can be thermoformed and has a variety of applications in sign, marine, and graphic arts industries. InteFoam can be heat bent, routed laminated, pressure or vacuum formed in a variety of shapes and configuration for those challenging displays shapes or promotional material. When using vinyl lettering, the bonding is excellent due to the molecular reaction (vinyl to vinyl) between the lettering and the InteFoam® surface.
Custom color matches and custom sizes available upon request, all InteFoam® has been tested and complies with UL94 V0, UL94 5V, UL48 and best all InteFoam® contains no lead or heavy metal in its formulation.
RELEVANT LINKS
Reflective & Photoluminescent Products

Sales & Service

Telephone : NORTH AMERICA 1-888-PLASTIK or 1-800-363-2870

Telephone : INTERNATIONAL 001-514-696-6767

FAX : USA & CANADA (514) 696-2637
WAREHOUSES IN MAJOR CITIES

Sales & Information :

USA EAST COAST : info@complexplastics.com USA WEST COAST : mike@complexplastics.com

CANADA WEST COAST : bc@complexplastics.com CANADA EAST COAST : sales@complexplastics.com

Europe : europe@complexplastics.com Asia : asia@complexplastics.com Middle East : MiddleEast@complexplastics.com
Comments & Suggestions : webmaster@complexplastics.com
Designed By Weblord Inc, (514) 696-2742 © 1996
Last modified: Friday, December 02, 2011 09:26 AM
DocRef_0_10-12-06_
_